RESIDENTIAL / COMMERCIAL / DEVELOPMENT / LAND
TIGER BRIDGING
BRIDGING LOANS / DEVELOPMENT FINANCE
We are bridging and development finance specialists. We share the aims and values of our partners – your success is ours. With speed, flexibility and creativity. That's how we do business.  
We are Tiger Bridging, a specialist bridging and development finance provider with over a decade in the market. Our team works to provide short term property funding solutions across the whole of the UK, offering bespoke and flexible lending terms. Using a well established network of high net worth individuals, family offices, hedge funds and the whole market when required, we strive to get your project funded, even when other lenders say no.
Our funding is free of the shackles imposed by larger institutions or the mainstream lenders. Our small stable of  valued and fast-moving investors, complemented by a select group of hedge funds, provide a steady and reliable flow of capital to our clients. Our culture is bespoke and our attitude is proactive.  If the deal in front of us makes sense, then we can get the funding, regardless of the credit status of the client.
What We Do
We do short term property bridging loans and development finance. Bespoke, non status bridging finance with no set criteria, secured against different types of residential and commercial property. We specialise in high value loans, fast completions and saying yes when others have said no. Click on the images below to find out more.
LATEST TWEETS
Jul 21
Check out our latest deal, the Whole Loan Senior. Call us today to see how we can help: 0207 965 7261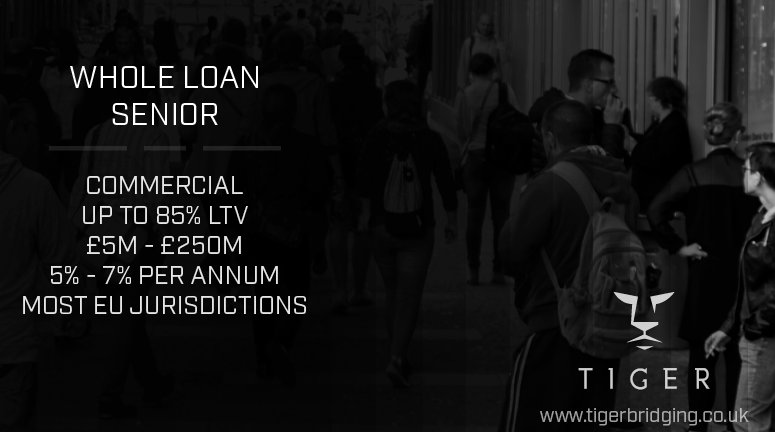 Jul 19
Our latest deal the Stretched Senior. Call us today to see how we can help 0207 965 7261 or visit our website…
https://t.co/OQSmmRNXcs
We're Unique
Our funding lines come from our exclusive network of high net worth investors, family offices and a select group of hedge funds.  We specialise in large bridging loans, which you cannot get anywhere else.
No Credit Checks
Not all finance packages require a credit check. Historical adverse credit and discharged bankruptcy are no barrier to securing your loan.
We're Bespoke
You will be dealing with an experienced finance professional on a one to one basis with no set criteria.  No call centres and no administrators.  When we say yes, we mean yes.
We Help Make You Money
Interest and most fees can be deducted from the loan advance, and by working with us you can make sure you don't miss out on a great investment.
Project-Focussed
Our loans are based on the property's open market value, regardless of the purchase price. Just bring us the deal, and if the asset used as security meets our criteria, we can get you a loan.
We're Fast
We are fast. Really, we are.  We work directly with our high net worth investors who are lending their own cash. It doesn't get quicker.
---